We need more Coaches and
Assistant Coaches for 2024!
Are you interested in coaching a team?
Attention all Thunderbolts Netball Club members!
Have you ever considered taking your love of netball to the next level by becoming a coach? Coaching netball is a rewarding and fulfilling experience that not only benefits the young players you coach but also yourself and the wider community.
As a coach, you will have the opportunity to share your knowledge and love of the game with the next generation of netball players. You will be able to see firsthand the progress and growth of the players you coach as they develop their skills and teamwork abilities. Coaching is a great way to give back to your community and make a positive impact on the lives of young people.
But coaching is not just about benefiting players – it also has many personal benefits for the coach. Coaching allows you to develop your leadership and communication skills, as well as providing an immense sense of satisfaction and accomplishment as you see your players improve. Additionally, coaching can help you stay connected to the netball community and stay active in a sport you love.
So why not consider becoming a coach with the Thunderbolts Netball Club?
Becoming and being a coach does take some time and commitment.
As a member of Thunderbolts Netball Club, you will be supported and provided with resources to help you become an effective and successful coach. The Club offers coaching courses, mentoring and feedback, and online resources to help coaches develop their skills and stay up to date with the latest coaching techniques and practices.
Coaching courses are a great way to gain the necessary knowledge and skills to become an effective coach. The Club will support you through various courses, including the Australian Sports Commission's Community Coaching Essential Skills Course, and Netball Australia's Foundation Accreditation course.
Mentoring and feedback are also essential parts of the coaching experience. Thunderbolts Netball Club provides coaches with experienced mentors who can offer guidance and support. Additionally, coaches are provided with regular feedback to help them identify areas for improvement and build upon their strengths.
Finally, online resources are available to coaches, providing access to training materials, coaching tips and advice, and videos of drills and exercises to use during training sessions. This online platform also enables coaches to communicate with one another and share ideas and best practices.
Coaching netball is an extraordinary journey that fills my heart with joy and purpose. I am Tamara Monteret, and I am truly passionate about the game. As the Coaching Coordinator of the Thunderbolts Netball Club, I have the incredible opportunity to merge my love for netball with my dedication to fitness.

But it goes beyond that. It's about fostering the right attitudes, empowering young athletes, and creating an environment where their spirits soar. The camaraderie within a team is a source of endless inspiration, and the challenges we face together fuel my determination. Witnessing the growth and progress of players as they evolve and embrace the game is a reward like no other. Their unwavering passion and boundless enthusiasm are the sparks that ignite my coaching fire.

If you share the same burning desire to make a difference and nurture the next generation of netball champions, join us on this exhilarating journey and help shape their futures. Together, let's create a lasting impact that resonates on and off the court.

– Tamara Monteret, Thunderbolts Coaching Coordinator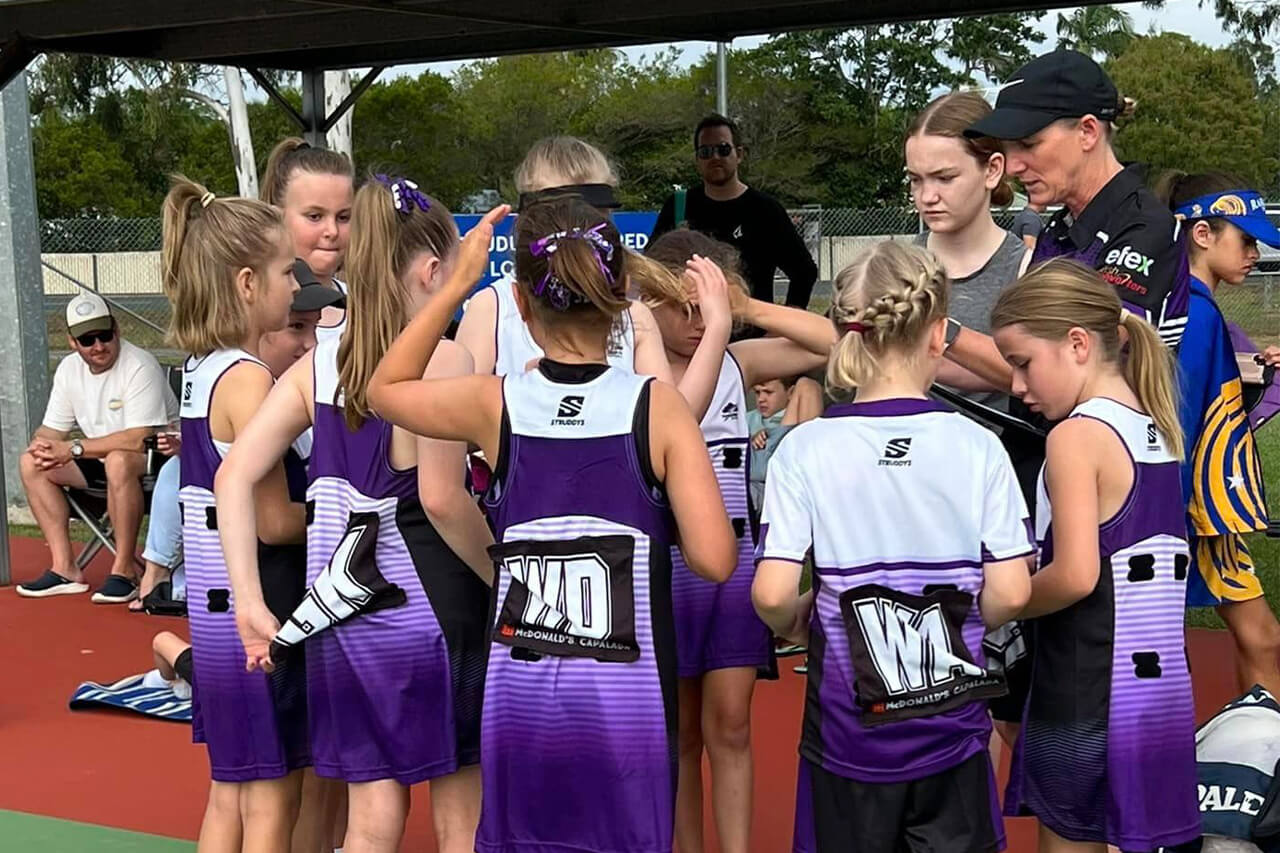 Becoming a coach does take some dedication, and a little bit of time, but you will be well supported.
Get started

Get trained
Complete some online learning
Participate in some in-person training

Club-supported workshops
First aid training

Get on the court
Start coaching a team with the support you need.

Get a team that's right for you
Plan your coaching
Partner with other coaches for mentoring, support and feedback
Update your coaching skills live online
The Australian Sports Commission has developed the Beginning Coaching General Principles online course for coaches to assist new coaches improve their basic coaching skills, in particular, those coaches working with children.
The course contains five modules, covering a range of general coaching topics, including the role and responsibilities expected of a coach, planning, safety, working with parents, communication, group management and inclusive coaching practices when working with people with a disability or special population groups.
The Beginning Coaching General Principles course is available from the Australian Sports Commission's new online learning portal. Coaches can complete the course in their own time, from the comfort of their own home. It is initially being made available free of charge to Australian coaches by the Australian Sports Commission. The course takes approximately 6 hours to complete with assessment included at the end of each module.
http://www.ausport.gov.au/participating/coaches/education/onlinecoach
Netball Australia's Junior policy can be found at http://netball.com.au/get-involved/one-netball/junior-policy/
All coaches are encouraged to complete the on-line umpiring exam. It is imperative that coaches at all levels have a true and complete understanding and knowledge of the rules. Access the Section I Theory Examination at https://learning.netball.asn.au/Auth/Login
For those coaches who wish to become accredited, the Beginning Coaching General Principles course provides the general principles component of the Foundation Coaching Course, plus one module of the Development Coaching Course. The next step is to complete a sports specific coaching course in order to achieve accreditation as a netball coach.